Elbląg is located in northern Poland, in Warmia-Masuria voivodeship. The city lies on the border between two geographical lands, i.e. Żuławy Wiślane, whose landscape resembles that of the Netherlands, and the Elbląg Heights towering above the Vistula Lagoon. Elbląg is a rapidly developing city-poviat, industrial, academic and cultural centre. Being also an attractive tourist destination, it is a good base for a trip to Masuria or to the seaside/the Vistula Spit. It is here that the Elbląg Canal has its beginnings. The Canal, a unique technical heritage site with a group of five locks running through Drużno Lake, a water bird reserve. Trekkers are invited to Bażantarnia, to its interesting routes. Tourists are also welcome to Old Town with its historical urban arrangement, castle boroughs, monastery and hospital complex with Ścieżka Kościelna (a medieval road being a passage to the cathedral), and with reconstructed townhouses. One can find, among others, Gothic buildings such as St Nicholas Cathedral, Galeria El – Art Centre and Market Gate. Other notable places are the museum and the library. As a consequence of WWII, the Old Town (apparently not less beautiful than Old Town in Gdańsk) was almost completely destroyed. The reconstruction of the Old Town has been going on for more than ten years with the townhouses harking back to the old style. Numerous cafes, restaurants or pubs encourage tourists and locals to relax, and taste various delicacies. http://www.katedra.elblag.opoka.org.pl
St Nicholas Church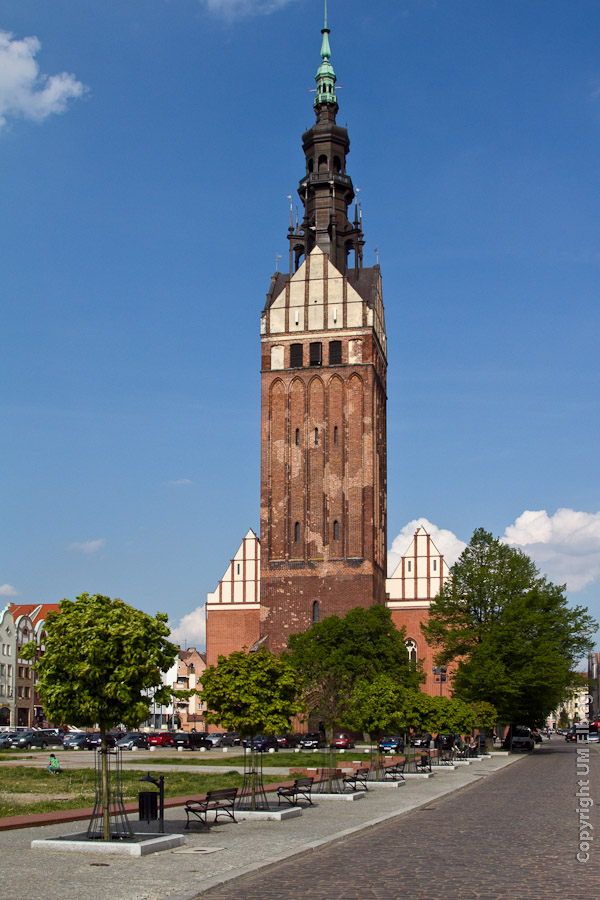 St Nicholas Cathedral is one of the oldest sacral buildings in Elbląg. You can feel history in the gloomy interior of the church. It is a three-nave, hall church with a two-span chancel. Throughout the centuries, it has been extended several times, for instance, after the fire in April 1777 following a thunderstorm and after WWII. Inside, one can see a brown baptismal font from 1387 created by Bernhauser and altars funded by Elbląg craftsmen's guilds such as raftsmen on the River Vistula, malters and cobbler apprentices. There is also a figure of Saint Adalbert of Prague. The church is also a sanctuary of the Holy Cross relic. Every Friday the relic is worshipped during the service. The reliquary is stored in a beautiful Gothic niche on the right side of the main altar. Ścieżka Kościelna is another notable site. It is actually a passage between houses connecting Wigilijna St and Mostowa St. The passage used to be longer and led from Old Town to the gate of former Dominican church.. http://www.katedra.elblag.opoka.org.pl
Market Gate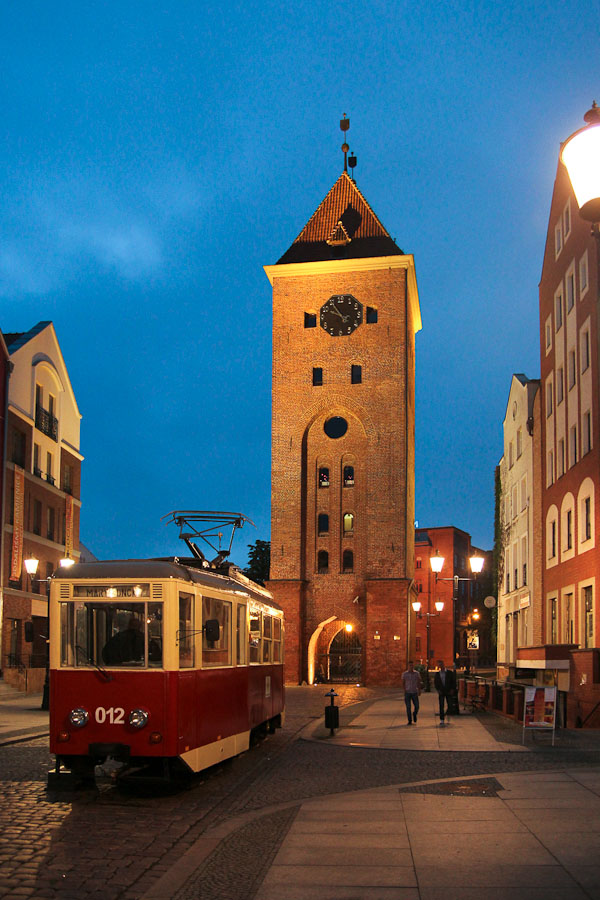 It is one of the most recognisable landmarks in Elbląg, dated back to the 14th c., once a part of fortifications. Its lower part was built in 1319, and in 1420 the upper part was added. During works on the upper part of the Gate, a two-tower gatehouse was added which survived until 1775. The northern side once contained a gate that protected the city at night. In 1755 a Baroque spire-steeple was funded by Elbląg dwellers. A terrace-viewpoint and a clock were also added. Destroyed in WWII, the Gate was rebuilt in its mediaeval shape in 1940s (return to the old form of the roof). The clock was a gift from the Senate of Hamburg. Since 17.07.2006 the Gate has been a vantage point. There is a legend about Piekarczyk (Baker Boy) related to the Gate. In 1521, one of the Teutonic Knights divisions was trying to deceitfully capture Elbląg. But the city was saved by Piekarczyk who spotted the enemy and closed the Gate using a mattock. The story of the brave Piekarczyk is commemorated with the statue of Piekarczyk (by Waldemar Grabowiecki) in front of the gate.
Galeria EL Art Centre
It is located in the former Dominican church. Dominicans came to Elbląg from Kraków. In 1238 the Landmaster Herman Balk gave the order location rights, i.e. the area of today's Galeria El. The church has been altered several times and was seriously damaged in 1945. In 1970s it was reconstructed and converted into a modern art gallery. In 2011 through EU funds, the interior was enriched with a two-level glass matroneum holding exhibitions. Combination of modern exhibits, glass matroneum and historical interior of the Gothic church looks amazing. The walls contain epitaphs and the floor contains two former tomb plates. Today, Galeria's offer is varied, from typical exhibitions to plays, concerts, festivals, performance art and workshops. http://www.galeria-el.pl/
Museum of Archaeology and History in Elblag
The exhibits come from two archaeological sites: Old Town and Truso settlement. Conducted for over 20 years, excavations have been a source of thousands of new objects made from ceramics, metal, wood, leather. Some of them may be unique such as mediaeval music instruments, pilgrims' marks, wax tablets used once as a learning aid. The excavations show the location of the City quite precisely, present the changing fashion and wealth of former Elbląg dwellers. The findings are a proof of Elbląg's distant trade contacts with numerous centres in Europe. As for Truso, in 8th c. – 10 th c. AD Danish Vikings founded a trading post. At certain moments in history, its significance was comparable to those of Birka, near Stockholm and Hedeby on Jutland Peninsula. In Truso, it is possible to trace trade connections with numerous European regions or even Arab countries. http://www.muzeum.elblag.pl/
Zygmunt August Boulevard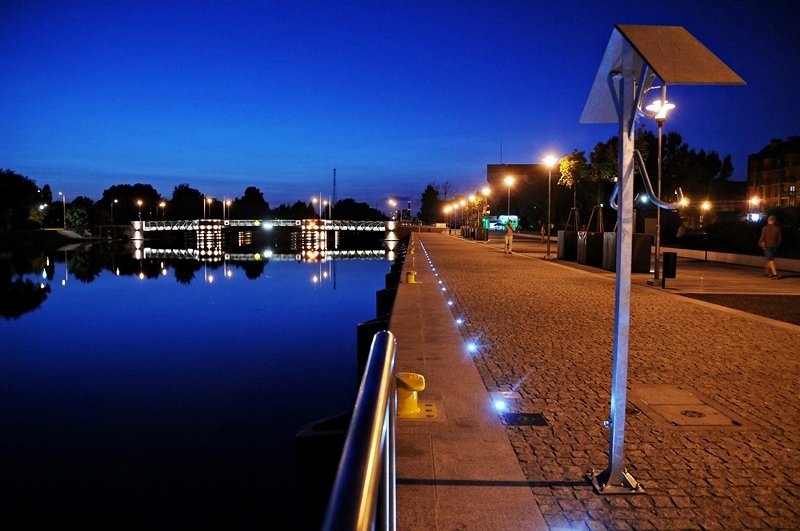 One of the most enjoyable places for Elbląg dwellers. After the reconstruction of the riverfront and building of the two drawbridges, it looks even more impressive, maybe not quite like before, but the bridges resemble the original bridges from before WWII. At night, the look is excellent. Hundreds of lamps create a unique atmosphere.
There is a harbour with "Biała Flota" servicing tourists who want to go on a boat trip along the river. You may reach Krynica Morska or Masuria from here. When hungry, you may visit a boat restaurant and others. Old Town is rich in different restaurants for any taste.
Bazantarnia Park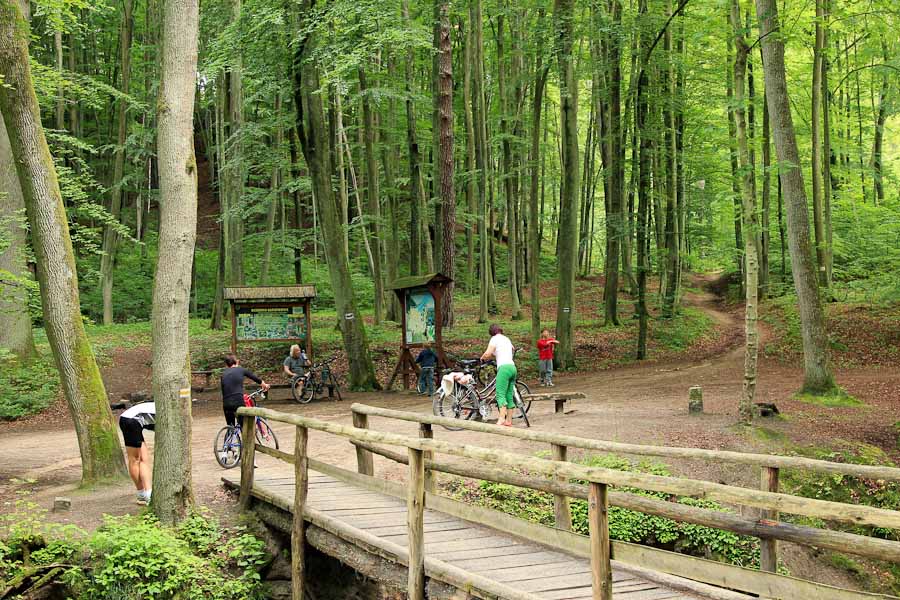 The beautiful Bażantarnia Park is located on the edge of the Elbląg Heights, covering 369 ha. Mountainous features, slopes covered with beech and hornbeam forest, hills, streamlets, mysterious ravines make you enjoy staying there. Trails encourage you to walk and ride a bike. Taking a trip along the valley of Srebrny Potok one encounters the Devil's Stone, dropped by Satan himself, as legends say. Park Bażantarnia is the lungs of Elbląg, full of beautiful recreation areas. The park and its edges are home to deer, wild boars and foxes as well as birds such as golden orioles, jays, woodpeckers, hawks, nightingales and blackbirds.
Bażantarnia is the right place for trekking, horse-riding, cycling and also cross-country skiing in winter. Mount Chrobry is a picturesque mountain where you may admire the panorama of the city and its neighbourhood; the Vistula Lagoon may be spotted when the weather is good. In winter it becomes the centre of local skiing with its well-lit slope, GOPR (rescue service)recommended ski-trails, T-bars, and snowpark, which altogether make skiers and snowboarders find the best place for their hobby in northern Poland. In summer, a ropes course opens.
Mount Chrobry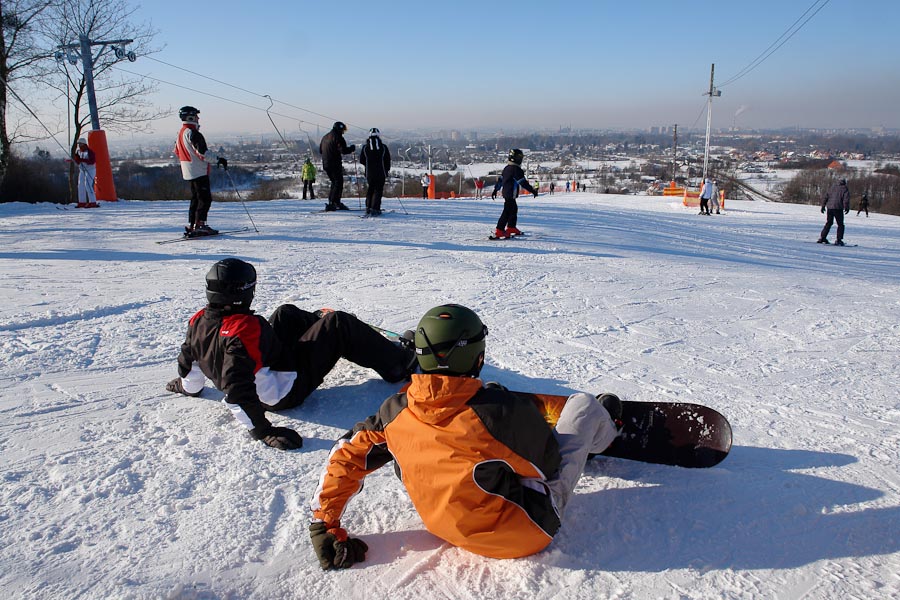 Mount Chrobry is a ski station and recreation centre both in winter and in summer. Situated near the centre of Elblag, it is only a 40-minute drive from Tricity. The available slope is 430 m long and level difference of 60 m, which makes it the best place for skiers and snowboarders. http://www.gora-chrobrego.pl/
Lake Druzno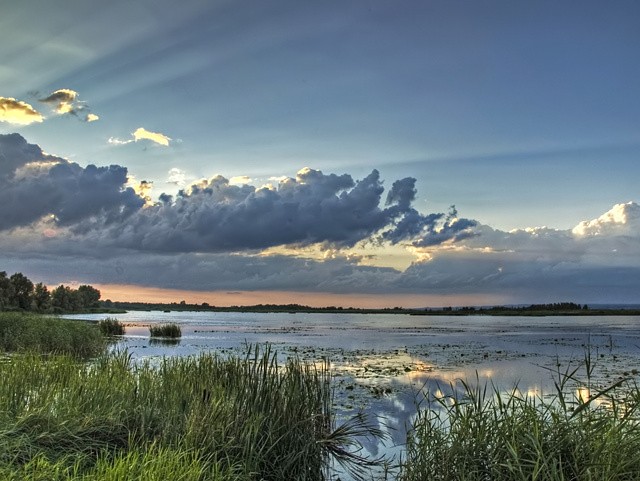 It is a part of the waterway of the Elbląg Canal, once a fragment of a sea bay. Gradual sludge accumulation and overgrowing led to the creation of a water bird reserve. A reserve since 1966, its area (water + adjacent land) equals to about 3,300 ha. Its average depth is only 1.25 m, and the deepened section is not deeper than 3 m. Tourists travelling down the Elbląg Canal may observe herons on their nests, cormorants looking out for its prey and wide variety of plants. There are 210 species of water and marsh birds, with 110 nesting here permanently. Typical birds found here are black-headed gulls, terns, great crested grebes, cranes, ducks and white-tailed eagles.
Elblag Canal
It is a unique water system connecting several West-Masurian lakes with the Vistula Lagoon. The attractiveness of the canal lies in a 100-metre difference in water level that is made navigable by the system of locks and inclined planes. The latter is a lift-like device r powered by waterflow. The Canal is 82 km long and thanks to hydrotechnical devices from 1860 it is a world phenomenon. The canal level in the section of 9.6 km changes by over 100 m. The ship moves supported by five water-powered inclined planes. The Canal and its neighbourhood is a protected area. Unusual nature and landscapes are admired by thousands of tourists every year, both ship passengers and individuals as well as watersports lovers. Despite such a huge number of nature lovers, human intervention does not pose a danger to the local wildlife and plants thanks to reserves, landscape parks and protected areas. The Canal is one of the Seven Wonders of Poland along with the Salt-mine in Wielicza, the Castle in Malbork and the Cathedral in Wawel. http://zegluga.com.pl/
Sand Valley Golf Course

Sand Valley was created in years 2006-2009. The architects were inspired by the courses from the early 20th c., i.e. "classic" golf courses. As a result, the game differs from the one on modern courses. Fairways are very wide, there are no side bunkers "punishing" weak hits and we do not "get much water". Sand Valley was designed to test the player, his judgement and the ability to apply strategies. Surely, those players who do not try to adjust their game to the conditions there will find this course difficult and unfriendly. However, those willing to face a challenge, planning their game will be rewarded with a good result and great satisfaction after a good game of golf. http://sandvalley.pl/