Starting a business has never been so easy.
You can register your company online!
Business registry started on 1 July 2011 in an ICT system on the initiative of the minister of economy pursuant to the Act on Freedom of Business Activity.
The new business registration application form, CEIDG-1, replaces the previous EDG-1. The application is additionally an act of notification to ZUS (Social Security) / KRUS (Farmers' Social Security), GUS (Polish Central Statistical Office) and Head of Inland Revenue Department.
The application form may be completed online with step-by-step prompts or traditionally with a CEIDG-1 form.
You can complete the form here http://prod.ceidg.gov.pl/ceidg.cms.engine/
If you do not have an e-signature or a certified profile, you may submit a printout of CEIDG-1 to the nearest City Hall or Commune Office.
Contact in the Elbląg City Hall:
Organizational Department(Departament Organizacyjny)
1 Łączności Street
building "A", ground floor, room no. 100
e-mail: do@umelblag.pl
tel.no. 55 237 47 53 - Ewa Stołycia
tel.no. 55 237 47 54 - Lidia Grabowska
Applications, enquiries, proposals, etc. need to be sent to: do@umelblag.pl
Opening hours:
7.30 - 3.30 Monday, Wednesday, Thursday
7.30 - 4.30 Tuesday
7.30 - 2.30 Friday
Submitting an entry to the registry of registered partnership
Each partner in the registered partnership has the right and is obliged to submit an entry to the registry but a joint entry is not necessary. If an entry is submitted by one or some of the partners the other partners are obliged to cooperate. The co-operation involves:
Preparing notary certification of the authenticity of signatures of people entitled to represent the company,
Fixing all data, for instance, the company's address unless they are included in the partnership contract,
Incurring the cost of registration if the company has no financial resources of its own.
Registering issues are dealt with by the locally competent district court (registry court).
http://www.krs-online.com.pl/formularze/krs_form_w01.pdf
---
Registering a civil law partership
A civil law partnership may be formed by at least 2 individuals or 2 legal entities. It is not placed in the National Court Register, but the partners, being business entities, are registered in the Central Registration and Information on Business. No capital is required for the company to be registered. All partners have unlimited liability, so does each of the partners. A partner is the enterpreneur. A civil law partnership is not a legal personality.
List of application forms and relevent appendices
---
Licences, permits
Entry into registry of schools and private institutions: more...
---
Business-related Institutions (IOB) – support offer
Please feel free to make use of our offer of Business-related Institutions (IOB), aimed at potential start-uppers.
The document entitled "Oferta IOB" (IOB offer) contains information about the range of activities of particular institutions along with a list of available training courses, workshops and different types of consulting. The document also contains contact details to the IOB representatives who are responsible for the above parts of the offer. The details will be updated on a regular basis.
We recommend it!
---
Ministry of Economy – Focal Point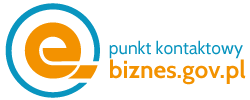 Virtual Focal Point with detailed information on business activity:
relevant regulations,
contact details to the bodies that follow relevant procedures,
detailed instructions of procedures,
step-by-step guidance for start-ups in particular industries.
Information on, for instance, law interpretation may be obtained through Centrum Pomocy (Assistance Centre). More...